Archaeologists from the Bavarian State Office for the Preservation of Monuments have announced the discovery of a well-preserved Bronze Age sword in the town of Nördlingen, Bavaria, Germany.
Most Bronze Age remains around Nördlingen belong to the Urnfield Culture (often divided into several local cultures within a broader Urnfield tradition) which emerged around 1300 BC. The Urnfield Culture grew from the preceding Tumulus Culture and developed advanced metal working skills in Bronze weaponry and armour.
The sword was found among a deposit of grave goods and weaponry, alongside the remains of a man, woman and child. The discovery is extremely rare for this part of Germany, as most burial mounds have long been looted during antiquity or opened during the 19th century.
The sword is similar to the Bronze D type Rixheim swords, in that it uses a solid hilt made by overlay casting of the handle over the blade, although the sword type has been described as "octagonal".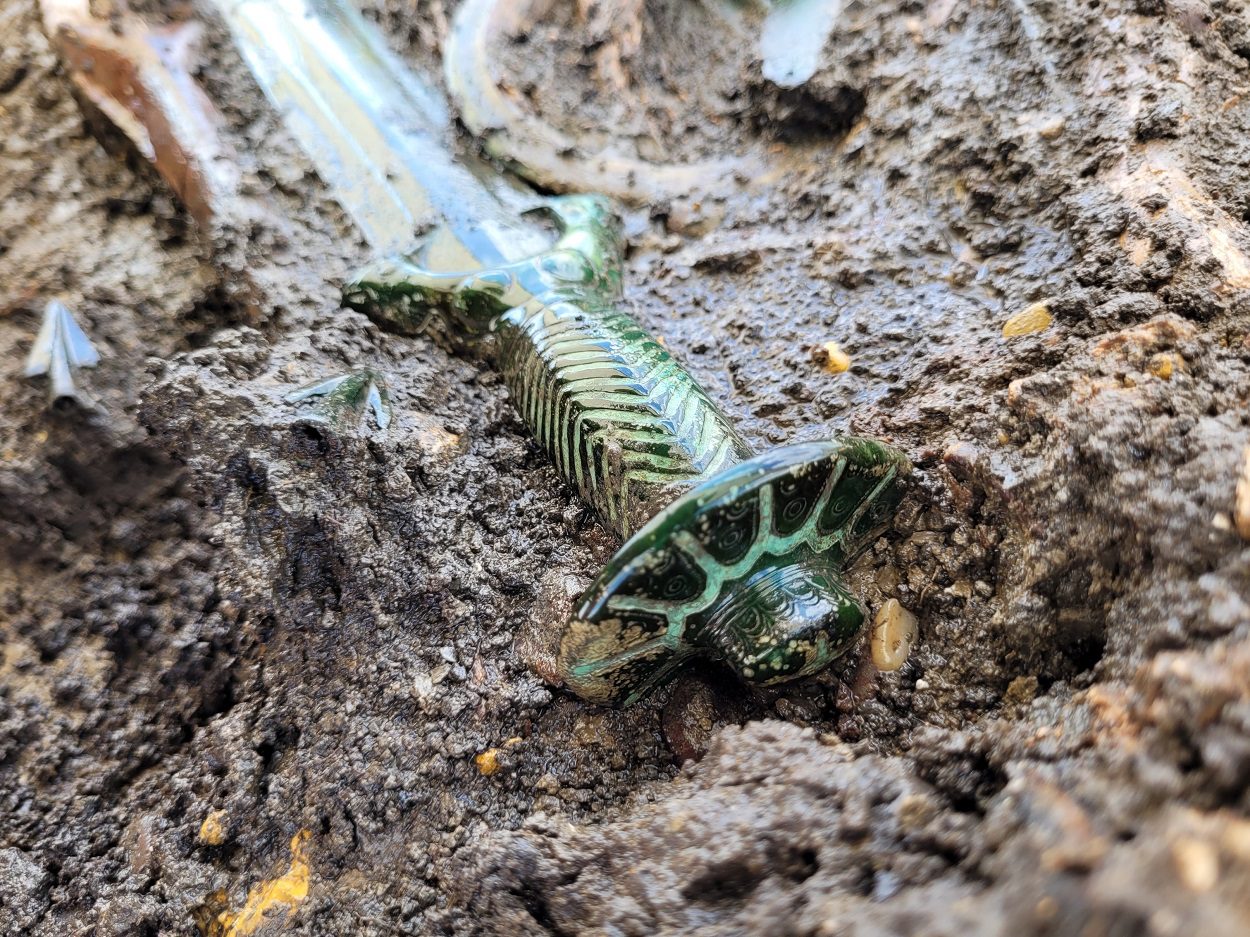 The hilt is ornately decorated, while the blade shows no indication of impact marks. This suggests that the sword had a ceremonial function or was a symbol of high status. However, according to the researchers, it would still have served as an effective weapon as the centre of gravity on the front part of the blade indicates that it would be used predominantly for slashing.
Mathias Pfeil, head of the Bavarian State Office for the Preservation of Monuments, said: "The sword and the burial still have to be examined so that our archaeologists can classify this find more precisely. But it can already be said: the condition is exceptional! A find like this is very rare!"
Whether the sword was locally crafted or was imported is currently being investigated. There are three main distribution centres during the bronze age for octagonal swords of this type, one in Southern Germany and the others in Northern Germany and Denmark.
A comparison of the casting techniques and the decoration shows that some of the octagonal swords in the North are apparently replicas of South German forms, while other pieces could be genuine imports or the product of "wandering craftsmen".
Bavarian State Office for the Preservation of Monuments
Header Image Credit : Dr. Woidich